Sanlitun Entertainment District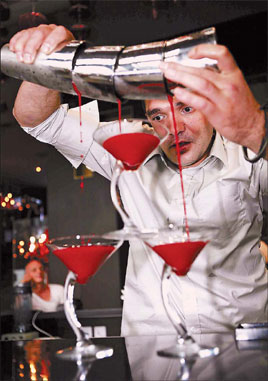 Sanlitun used to a small street with some bars. Now it has turned into a wide bar & other entertainment area. This is the place if you wanted to go to a bar. Many many bars, most open till 4am or later. They all have that certain Beijing feel. Frequently by many foreign customers so you will not feel too out of place.
Houhai Bar Area
This place seems to be taking over from Sanlitun as the major bar area of Beijing. It is situated around a man-made lake at the north of Beihai Park. Boating is available on the lake till 11pm or 12am (in the summer). It is Very pretty area.
Downtown Cafe (9:30am - late evening)
South Sanlitun Road, Next to the City Hotel (6507-3407), Thursday night is open dart night Music is R & B, oldies rock.
Durty Nellie's (noon - 2:00am)
Sanlitun south Bar Street (6502-2808), In October celebrate a month of Irish culture with special food from Ireland at the bar.
Fengxing Musk Bar (5:00pm - 2:00am)
Baiyi Road, Straight north from Capital Stadium on Baiyilu, on east side of South Gate of Agriculture and Science University. (6217-7744 ext2286). Live music nightly by original bands or cover acts.
Happy Paradise (5:00pm - 2:00am)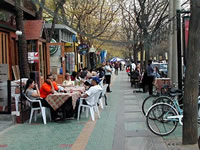 In the alley opposite Wudaokou Workers Club, look for the Xinjiang restaurant at the end of the alley. (6232-6821).
Havana Cafe (11:00am - late evening)
Near the Northern gate of Worker Stadium (6586-6166, 6594-0048). Packed, packed, packed. Sundays the theme is chill out music with local DJs invited to spin every Sunday from 3-6pm.
High Ground (1:00pm - 2:00am)
19 Zuojiazhuang Beili Shangye Street (6468-6708). Crazed militant design, but amusing nonetheless.
Honolulu Bar (4:00pm - 3:00am)
11 Xiyuan Street, near the Xiyuan Hotel (6835-4970). Three stars for this friendly bar.
Hotline 1950 (7:00pm -2:00am)
4-5 Liangmaqiao Road, east of the 21st Century Hotel (6461-1950). Drag queens in qipaos and more.
Jam House (8:00pm - 2:00am)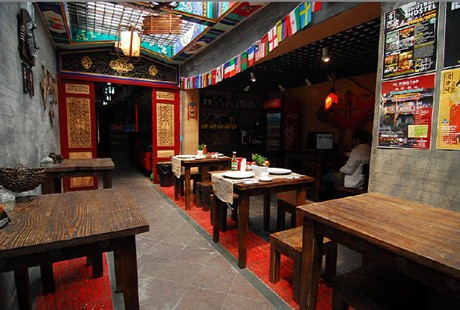 Sanlitun South Bar Street (6506-3845). Thursdays see DJ Martin, Fridays and Saturdays go to Flamenco night and Wednesdays hear Kim's Canadian Funk Band. Shows start at 10pm.
John Bull Pub
44 Guanghua Road (6532-5905). A Genuine English pub, featuring live music every Thursday, Friday and Saturday by Chito-Solo, a band specializing in oldies and country music.
Milan Club (3:00pm - 3:00am)
Sanlitun North Bar Street (6416-4560). Get hip to the latest styles while you drink a beer. The lights in your table will match the ones on the runway. Shows nightly at 10:30.
Minder's Cafe (11:00am - 2:00am, Fri, Sat 11:00am - 4:00am)
Sanlitun South Bar Street (6500-6066). All acoustic roots music by the performing artist Nogabe nightly at 9pm.
Nashville (6:00pm - 2:00am)
Sanlitun South Bar Street (6502-4201). Thursdays and Saturdays Phonograph plays the blues, on Fridays listen to more rock and blues, Sundays and Wednesdays Dabao comes to strum guitar, and Tuesdays you can hear a country duo on Tuesdays. All shows start at 9.
Oak Club (8:00pm - 1:00am)
The alley behind Wudaokou Market Haidian District (13701257628). Every Friday the Wild Children will be playing, and on Saturdays catch local death metal bands Diaodeda, Bengkui, Shijiaori, Chenshi.
Porgy's Place (5:00pm - late evening)
Sanlitun South Bar Street (6508-9439). Friays and Wednesdays hear live on stage blues from Beijing's newest bands, Saturday listen to the band Roots play cover tunes, Mondays there is a reggae dance party, Tuesday check out DJ Jenny Rock Star, the "Texan blond bombshell," and Thursday check out Sanlitun slim, spinning blues tunes as always. All shows start at 10pm.