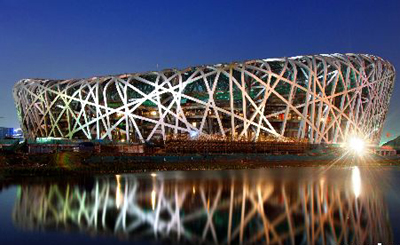 The Bird's Nest, is also known as the National Stadium in Beijing, it was designed for use throughout the 2008 Summer Olympics and Paralympics. Located in the Olympic Green, the $423 million stadium is the world's largest steel structure. The design was awarded to a submission from the Swiss architecture firm Herzog & de Meuron in April 2003, after a bidding process that included 13 final submissions.
Design of Bird's Nest
The design of Bird's Nest, which originated from the study of Chinese ceramics, implemented steel beams in order to hide supports for the retractable roof; giving the stadium the appearance of a "Bird's nest". Leading Chinese artist Ai Weiwei was the artistic consultant on the project. The retractable roof was later removed from the design after inspiring the stadium's most recognizable aspect. Ground was broken in December 2003 and the stadium officially opened in June 2008. A shopping mall and a hotel are planned to be constructed to increase use of the stadium, which has had trouble attracting events, football and otherwise, after the Olympics.
Bird's Nest was a joint venture among architects Jacques Herzog and Pierre de Meuron of Herzog & de Meuron, project architect Stefan Marbach, artist Ai Weiwei, and CADG which was lead by chief architect Li Xinggang. During their first meeting in 2003, at Basel, the group decided to do something unlike Herzog and de Meuron had traditionally designed. "China wanted to have something new for this very important stadium," Li stated. In an effort to design a stadium that was "porous" while also being "a collective building, a public vessel", the team studied Chinese ceramics. This line of thought brought the team to the "nest scheme". The stadium consists of two independent structures, standing 50 feet apart: a red concrete seating bowl and the outer steel frame around it.
Attempting to hide steel supports for the retractable roof, which required in the bidding process, the team developed the "seemingly random additional steel" to blend the supports into the rest of the stadium. Twenty-four trussed columns encase the inner bowl, each one weighing 1,000 tons. Despite random appearance, each half of the stadium is nearly identical. After a collapse of a roof at the Charles de Gaulle International Airport, Beijing reviewed all major projects. It was decided to eliminate the retractable roof, the original inspiration for the "nest" design, as well as 9,000 seats from the design. The removal of the elements helped to bring the project under the reduced construction budget of $290 million, from an original $500 million. With the removal of the retractable roof, the building was lightened, which helped it stand up to seismic activity; however, the upper section of the roof was altered to protect fans from weather. Due to the stadium's outward appearance, it was nicknamed "The Bird's Nest".