The Dongsi Mosque takes its name from its location near the Dongsi Archways in the East City District of Beijing.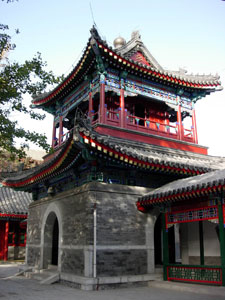 The mosque was first built in 1447 in the Ming Dynasty. According to historical records, it was Chen You, a general, who provided the funds for its construction. In 1450, the Ming Emperor Jingtai bestowed on it the name Qingzhensi (Purity and Truth), as all mosques in China are designated.
The main hall is made entirely of wood. The Repository Hall, behind the main hall, is a beamless building whose supporting walls with varicolored motifs is in the style of the Ming Dynasty. On the surface of the dome-shaped roof the words of the Koran are engraved in Kufic script, the form of Arabic calligraphy reserved for religious and official purposes.
In 1486, a minaret was built which fell into ruins only in 1908. Today, only the bronze canopy remains, with the words "Cast in1486" still legible on its surface.
Since the nation-wide liberation in 1949 the mosque has undergone two major renovation efforts. The first took place in 1952 when all the dilapidated buildings were redecorated, and the second was in 1974.
Today, the mosque has three resident Imams who administer the five daily prayers and the Friday Djuma Service. When requested by foreign Muslim residents, they also perform religious ceremonies at births, weddings and funerals.