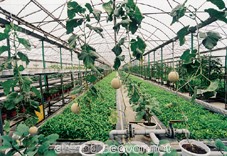 A modern hi-tech agriculture park, the Beijing Glorious Land Agriculture Park is in western Haidian District. Using the latest agricultural techniques, flowers, fruits, vegetables, and crops are planted in transparent bottles, under strictly controlled circumstances in which viruses cannot survive. Flowers grown in this way are more colorful and last longer. Detailed information of the whole growing process is available, and visitors to the park may also enjoy swimming, tennis, golf, squash and shuffleboard. Villas are provided, in addition to American style log cabins, and for long-term rent, a greenhouse is also available.
Admission: 20 yuan for adults and 10 yuan for students and disabled.
Add: Liaogongzhuang, Sijiqing Township, Haidian District
Tel: 88701087
Accommodation: 220-360 yuan for a guest room, 1,800-2,400 yuan for a villa, and 2,500 yuan for an American style log cabin.
Transport: Take bus No 850, 977, 336, or 746 to Shifangyuan, or drive westward four kilometers along the Fushi Road.