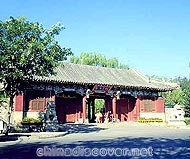 Beijing University, originally named the Metropolitan College, was founded in 1898 as a symbol of the prevailing ideological trend of bourgeois democracy. In 1912, after the fall of Qing Dynasty, the Metropolitan College became Beijing University.
The history of the university is closely related to the development of modern Chinese politics, thought, culture, and science. Students at Beijing University played a vanguard role in the May 4th Movement in 1945, among many others. The university moved to Kunming, Yunnan Province, during the War of Resistance Against Japan, forming Southwest United University with Qinghua and Nankai universities, both from the north. In 1952 it moved back to the campus of Yanjing University in the northwest corner of Beijing.
Today Beijing University has more than 20 departments that offer 60 majors. Of the 2,000-odd faculty members and researchers, 140 ranks as professors and 400 as associate professors. It has 10,000 students, with 600 graduate students and 200 foreigners from 39 different countries. International cultural exchange and cooperation include inviting foreign teachers and scholars as well as exchanging Beijing University Journal, books and teaching materials with more than 60 foreign universities.
The 150-hectare campus was once part of the imperial parklands. Shaoyuan, in the southwest corner of the campus, landscaped in the southern Chinese style, was built in late Ming Dynasty. The Weiming Lake area is a favorite spot for quiet study and reflection.
American writer Edgar Snow (author of Red STAR over China) is buried on one of the surrounding hillsides.