Zhoukoudian, situated 50 kilometers to the southwest of Beijing proper, is the former residence of Peking man, who lived here approximately 200,000 to 500,000 years ago. Since the discovery of a complete skull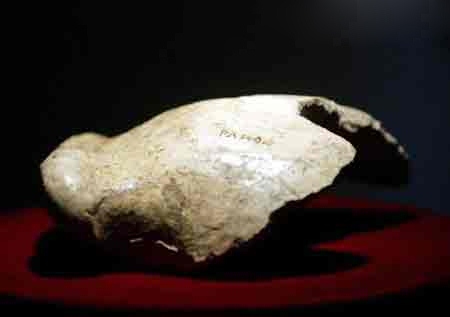 on December 2,1929, Zhoukoudian, which had more recently been noted for its production of lime, became world-famous as the "home of the Chinese ape-man." After the establishment of the People's Republic of China, the number of sightseers and scientists increased rapidly, and Zhoukoudian has become a great tourist attraction.
Peking Man chose Zhoukoudian as his residence because the limestone caves and crevices in the area provided an excellent habitat. The northern face of Dragon Bone Hill (Longgushan), which stands to the east of the Zhoukoudian Railway Station, is the site of the caves occupied by Peking man; in fact, a total of four early residential sites have been discovered on this hill. Besides those belonging to Peking man, the remains of a site occupied by Hilltop Caveman are the most representative.
At present, Zhoukoudian' s Dragon Bone Hill has an exhibition hall, which is divided into seven rooms. The first room exhibits fossil remains of Peking man, stone tools, and evidence of Peking man's use of fire. These exhibits also depict Peking man's external appearance and general living conditions.