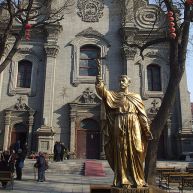 The oldest Catholic Church in Beijing, the Southern Cathedral, also known as the Cathedral of the Immaculate Conception, is located at 181 Qianmenxi Street in the Xuanwumen area. It was first erected in the middle of the 16th century on the former site of the Donglin party, a political clique active in the late Ming Dynasty. When the Italian missionary Matteo Ricci came to China during the reign of Emperor Wanli, the emperor provided him with a residence which stood slightly to the west of the cathedral.
The cathedral was rebuilt in 1657 during the reign of Emperor Shunzhi of the Qing Dynasty. A stone tablet, erected at the time and inscribed with"Cathedral Built by Imperial Order,"still stands in the church yard. The cathedral was severely damaged by earthquakes in 1775 and 1990, and was rebuilt in 1904 in its present form.
Old Chinese records describe the style of the cathedral as "a building with a long narrow vaulted corridor with decorative motifs on the walls executed in an alien style." The main components of the 80-year-old building remain unchanged with one exception-its wooden supporting columns have been replaced by brick-and-mortar columns decorated with stone mosaics.
The arrangement in the nave, however, is quite different from what it had been in the past. On the wall behind the pulpit is an oil painting of the Virgin Mary, before which candlesticks and other ritual implements stand on an altar. To the left of the pulpit is a portrait of St. Joseph and on the right one of Jesus of the Sacred Heart. Other paintings portray episodes in the life of Jesus.
After the death of Matteo Ricci, the Catholic Fathers Didaco de Pantoja (in Chinese, Pang Di'e) and Longobardi (Long Huamin) continued to engage in missionary work, though few among the Chinese literati and officials were converted to the faith.
Today the cathedral remains in excellent condition. Masses conducted by more than 10 Chinese Fathers attract an increasing number of Chinese and foreign worshipers every Sunday, and the church is always crowed at Easter and Christmas.