The Liyuan Theatre is the first place for art co-run by Beijing Qianmen Jianguo Hotel and Peking Opera Theatre. It can hold thousands of audience. Artists from Beijing's Peking Opera Theatre offer one of Chinese quintessence-Peking Opera. All the offered plays are repertoire of Peking Opera that are carefully selected. Sitting beside old fashioned square tables for eight people,audience can enjoy delicious snacks and famous Chinese tea while watching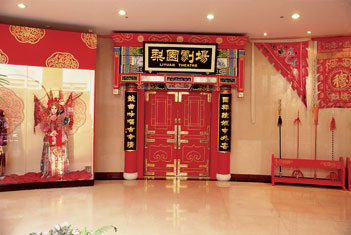 Liyuan Theatre
performances of Male Role (Sheng),Female Role (Dan), Painted Face Male (Jing) and Clown (Chou).What a wonderful art enjoyment! Besides, you are allowed to enter making-up rooms to see how actors or actresses make up their faces and become pleasantly surprised later. At the same time, the theatre gives simultaneous interpretation services in English, Japanese and French at each show.
In the display & sales hall, you can glance over the brief history of Peking Opera and the stage photos of prominent actors and actresses; or buy Peking Opera costumes, masks and musical instruments, Chinese calligraphies and paintings, audio and video tapes. You may also please to have a photo taken of yourself wearing a Peking Opera costume and make-up with one of your favorite actors or actresses.
There is a very famous Chinese saying: "Shaolin Temple is the place where the Chinese Kungfu originated". The Liyuan Theatre has joined hands with the Songshan Mountain Temple in Henan Province, with monk team showing Shaolin Kungfu exclusively in Beijing, including Chinese boxing, spear-play, sabre-play,sword-play, cudgel-play, boxing and other Shaolin Temple's profound Neigong, Waigong, Qinggong, Qigong, Yinggong as well as secret Kungfu using for temple protection. How sight worthy these Kungfu are!
With elegant and comfortable environments, Liyuan Theatre welcomes you to visit and enjoy its superb opera and Kungfu performances and impeccable services.
Peking Opera Schedule: 19:30 p.m. to 20:45 p.m. daily
Place: Liyuan Theatre, Beijing
Address: 175 Yongan Road, Xuanwu District, Beijing, China.