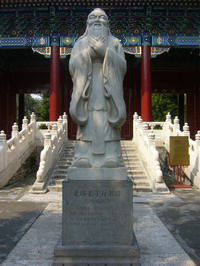 The Temple of Confucius at Beijing is the second largest Confucian Temple in China after the one in Confucius' hometown of Qufu. It was built in 1302, and imperial officials used it to pay their respects to Confucius until 1911.
The compound was enlarged twice, during the Ming and Qing dynasties and now occupies some 20,000 square meters. From 1981 until 2005, the Temple of Confucius also housed part of the art collection of the Capital Museum. It stands on Guozijian Street near the Imperial Academy.
The complex includes four courtyards aligned along a central axis. From south to north, noteworthy structures includes the Xianshi Gate, Dacheng Gate, Dacheng Hall and Chongshengci. Inside the temple there are 198 stone tablets positioned on either side of the front courtyard, containing more than 51,624 names of Jinshi (the advanced scholars) of the Yuan, Ming and Qing dynasties, and 14 stone stele pavilions of the Ming and Qing dynasties that hold the precious historical information of ancient China.
The temple also contains stone tablets recording the names of many generations of scholars who passed the Imperial Examination, a reproduction of a Western Zhou period stone drum made during the reign of Qianlong (1735-96), and 189 stone steles containing the Thirteen Confucian Classics, presented by the city of Jintan in Jiangsu Province.
The Temple has many old trees, including one Cypress tree known as the "Touch Evil Cypress" (Chu Jian Bai). Its name derives from a story that when a famously corrupt official passed by, the tree knocked off his hat.
The Confucian Temple is part of the Imperial College. Originally, it was called Confucian Temple of Imperial College or Capital Confucian Temple. Actually, the Beijing Confucius Temple is not the only Confucius Temple in China. There is one in Qufu, Shandong Province, which is Confucius' hometown. The Confucius Temple in Qufu is much larger in size, yet the Social position of Confucius Temple in Beijing was much higher than the Confucius Temple in Qufu. This is because the Emperors of the Yuan, Ming and Qing Dynasties all came to Beijing Confucius Temple to pay homage to the ancient sage Confucius. So in hierarchical ancient feudal society, no other Confucius Temple could equal this one.
From 1906 to 1916, ten years were spent to enlarge and renovate the temple to make it what we see today. The Confucius Temple houses many precious historical and cultural relics including the Qian Long stone drums, the inscribed boards, stone tablets inscribed with the full texts of the thirteen Confucian classics, and stone tablets bearing the names and origins of scholars who passed the palace examination. To better protect and utilize this historical site, in 1981, the Confucius Temple was turned into the Capital Museum, and in 1988, it was designated as one of the major national historical and cultural sites under the national protection of the State Council.