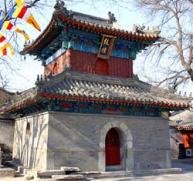 The Temple of Great Charity (Guangji Temple), situated at the eastern end of Fuchengmennei Street, is one of the best-known Buddhist temples in Beijing. Today the temple is center of Buddhist learning and serves as the headquarters of the Chinese Buddhist Association.
The architect Liu Wangyun of the Jin Dynasty first built the Temple of Great Charity more than 800 years ago. In the Tianshun reign (1457-1464) of the Ming Dynasty, it was rebuilt by the Monk Pu Hui and named the Temple of Great Mercy and Great Charity. In the ensuing years, it went through a series of repairs and renovations. In 1699, Emperor Kangxi ordered the temple to be renovated and expanded, at which time the following structures were added: an inscribed stela; a horizontally inscribed plaque; a stone tablet engraved with the calligrapher Mi Fu's rendering of the Eulogy to the Goddess of Mercy copied by Emperor Kangxi himself; and a number of gilded Buddha images.
An ancient tree once stood in the temple compound, but it was consumed in a fire. A stone tablet inscribed with "The Ode to the Iron Tree" composed by Emperor Qianlong stands on the spot where the tree once grew. An inscribed tablet bearing the words, "Temple of Great Mercy and Great Charity-Bestowed by the Emperor" was placed over the front gate.
On January 8,1934, fire suddenly swept through the temple, destroyed dozens of halls, countless scrolls of calligraphies and paintings, and numerous valuable objects of porcelain, bronze and jade. More than 100 volumes of the Fahuajing (a Buddhist scripture) were lost, along with the "iron tree" mentioned above. Generous donations enabled the temple to be speedily rebuilt. Two other major reconstruction projects were carried out in 1952 and 1972, restoring this ancient temple to its former magnificence.
Inside the temple's front gate is the Devaraja (Heavenly Kings) Hall and, to each side, the Bell Tower and the Drum Tower. In the center of the compound is the Mahavira Hall, where offerings were made to the Buddhas of the Three Ages. The images here are the work of the noted craftsman Jiao Wanli of the Kangxi period. Further inside the courtyard is the Hall of Perfection, in which 11 bronze images of the Goddess of Mercy are displayed.
At the rear of this hall is the Hall of Bhaisajyaguru, the God of Medicine, and on its second story the Sheli Pavilion, which serves as a depository for a Ming Dynasty Triqitaka (the complete collection of Buddhist scriptures) and a collection of fine Buddhist paintings.