Muslim Cuisine, Beijing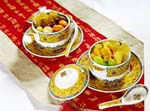 For those who likes Muslim food, the Hongbinlou Restaurant on Zhanlan Lu in Beijing's Xicheng District is the place to go.
The Hongbinlou Restaurant, which in 1955 moved to Beijing from Tianjin at the request of former Premier Zhou Enlai, is a century-old Muslim restaurant and laozihao (Time Honoured Brand) that serves what have been described as "the best Muslim dishes in Beijing." This has been more than confirmed by the restaurant's loyal following among Beijing's laobaixing (old hundred surnames or common folk), who come for more than just the restaurant's famous fare.
With new restaurants of different styles popping up everyday in Beijing, people are inclined to seek out novelty, but the tried and true menu of the Hongbinlou Restaurant never disappoints its fans. The halls of the restaurant never yield a hollow sound, in part, because in addition to its fine food, Hongbinlou is also associated with the observance of traditional Chinese customs.
As with other fine restaurants in a booming Beijing, several months prior to the traditional Chinese Spring Festival (Chinese Lunar New Year), Hongbinlou begins to get ready to serve festival feasts. During this time, it is swamped by admirers and local revellers searching for tasty treats.
Li, a Beijinger, dines at the Hongbinlou to celebrate the New Year. "The New Year's Eve dinner is a major event for the family. My parents would not change the convention."
More than 800 seats were booked by diners for the most recent Lunar New Year's Eve, according to Yang, a manager of one of Hongbinlou's branch restaurants.
On offer were set menus priced at double or treble those for regular dinners. "Feasts that cost between 1,000 and 2,000 yuan (US$123 to US$246) for a table of eight to 12 people were the most popular," Yang said.
Festival observances have brought prosperity to Hongbinlou. Ever since the restaurant began offering its New Year's Eve dinners in 1999, the restaurant's business has grown by 20 percent per year. About 90 percent of its reservations are made by large families.
The Muslim-styled yuanxiao (sweet-filled rice dumplings) of another traditional holiday, the Lantern Festival (Yuanxiaojie), and mooncakes (yuebing) of the Mid-autumn Festival (Zhongqiujie) are welcomed by Muslims and non-Muslims. Yuanxiao sales rose to 4,000 boxes per day during 2006's Lantern Festival.
People also turn to this popular laozihao to celebrate their weddings, which are, in their way, as important as the Spring Festival.
In China, choosing a wedding day is a job for parents and even grandparents that is considered as important as the ceremony itself. This takes on added importance in the lunar Year of the Dog, because this year is seen by Chinese as a golden period to "tie the knot." It is said that there are two "springs" in this Year of Dog on the lunar calendar, which some people believe will bring luck to their marriages. The seven-day holiday week from May 1-7 gave many lovers an opportunity to have their weddings.
And Hongbinlou was ready to help them celebrate with a range of services tailored to their needs. From grand banquet celebrations to hall decorations, it creates a perfect ambience to highlight its special dishes and its customers' special days.
Since weddings are all about happiness and good wishes, almost every dish presented by the chefs has a symbolic meaning or a name that sounds like Chinese characters for fortune, happiness, longevity and prosperity.
Fish, a typical main course, is used because it symbolizes a profitable year ahead. Vegetables embody the freshness of "evergreen'' and store good fortune in their roots. Fish balls and meat balls symbolize "reunion" since their round shape portrays "togetherness."
For all this special care, this century-old restaurant is now the scene of more than 200 wedding ceremonies each year.