Big enough for great service but small enough to care!
Beijing Holidays is the sister site of China Discover / Sinoway Travel. All our bookings are done by their travel professionals. With Beijing Holidays you are not only a number or a tracking code. We go through the itinerary with you step by step, day by day, to create a tour that fits your travel needs like your favourite shirt fits you. We make sure that you not only get value for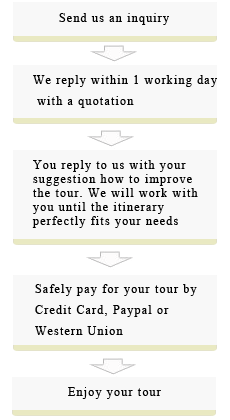 money, but also the tour that you really want.
Experience to count on
We at Beijing Holidays are all frequent travellers. If its the inspection trip for that new attraction in the remote hinterlands of China or our private vacation travelling the Great Wall or cruising the Yangtze Rive:
We only sell the products that we have experienced ourself and that we think are good enough for our customers.
We are getting quite a lot of inquiries from people asking us to send our customers to their attraction. Most of them we decline, because their quality does not meet our high standarts.
Compare our itinerary to other quotations you collected and you will see the difference.
Value for money
We calculate our tour prices on the basis that everyone involved (the customer, tourguides, drivers) is treated fairly.
We don't raise extra charges on making your tour hassle free and convenient like other companies do and we do not extort our guides to make that one dollar extra profit.
Honesty and sincerity are the foundations of how we make business, how we treat our suppliers and employess and most important: how we treat our customers.
Our Clients Testimonials