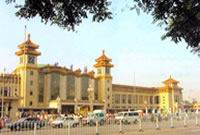 There are two major stations in Beijing, Beijing Railway Station (if you take metro, get off at Bejingzhan) and Beijing West Railway Staion(get off metro at Junshibowuguan). Trans-Siberian trains to Moscow & Ulan Bator use Beijing Railway Station, as do trains to Shanghai. The direct train to Hong Kong and trains to Xian, Guangzhou & Tibet all use Beijing's newer West station.
We are told by locals: Those trains go north and east, depart from Beijing Railway Station, trains go south and west, depart from Beijing West Staion.
Beijing Railway Station
Beijing Railway Station was built in 1901 and was renovated not long ago. The ticket room is spacious and well ventilated and the layout of the station is very convenient. The inside of the 2nd floor is clean, with a high roof. It is conveniently located near the center of the city. It mainly handles traffic from the north-east, Inner Mongolia.
The signs in the station that help get around are labeled in English but signs that display ticket prices or availability are not in English. It may be hard for a person that doesn't speak any Chinese to get a ticket.
Numerous bus lines pass Beijing Railway Station. Subway line 2 is just next to the station. Next to the subway is the Taxi station. People are queuing here to get on the taxi.
Beijing West Railway Station
It is located in western Beijing's Xuanwu District. Opened in early 1996 after three years of construction, it is one of the largest railway stations in Asia. It was expanded in 2000 and is now able to handle 300,000 passengers per day and also had a vast amount parking lots added.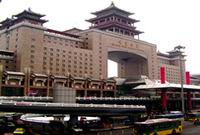 Beijing West Station handles traffic from south and west China. The well-known Jingjiu Railway, or Beijing-Kowloon Railway line, begins from this railway station. Since the opening of the Qingzang railway in 2006, it is possible to catch a direct train to Lhasa from this station.
There is not yet a subway station that connects to this station but it is planned for the future. An underground link line that will be built to connect it with the Beijing Railway Station has been planned.
It is convenient, safe and cheap to use the long-distance trains in China. Train stations in many cities are fairly centrally located or at least conveniently placed next to a public transit center. Once you learn a few things about the trains and get used to them you should find them to be a fine way to get around China.
Know More
Beijing stations are large and busy, and some people find them confusing. So arrive in plenty of time for your train!
Find the right waiting lounge
When you reach the station, you must first go through airport-style security controls into the departure area. For soft sleeper travel, you must then find the appropriate waiting lounge for your train. There are a number of different waiting lounges, and the electronic message boards show which is the right one for each specific train. Tickets are checked on entering the lounge, so you can be sure you are in the right place. Inside the lounge, the electronic message boards show the trains departing from that lounge, for the next 24 hours.
Boarding the train
Trains are usually allocated between lounges so there is ½ hour or more between each departure from that lounge. Most trains are shown as 'on time', but the most immediate departures are shown as 'waiting'. Once a train is ready for boarding (normally about 30 minutes before departure) it is shown as 'check in', meaning you can proceed through ticket control to the platform. About 5 minutes before departure the barrier is closed and the train is shown as 'check out'.
Check-in Baggage
Baggage space is limited and must be storred in your compartment so it is wise to travel with small baggage rather than large suitcases.  You might arrive earlier at the station and ask staffs to transfer your big suitcases as cargo, but you might be informed that your suicases might not be come with the same passenger train you take! It means you might not be able to see your suicase when you arrive another city, you might need to take a taxi to pick them up in another day!
Hand Baggage
Most train stations have a considerable number of stairs to climb to reach the platforms. Bags have to be carried up and down these stairs. Most stairs have a steep ramp so that wheeled bags can be dragged up as you walk up the stairs.
More informations


Beijing subway service