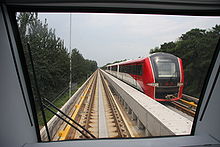 The Beijing Airport Express Train has only four stops: Dongzhimen and Sanyuanqiao in the city , and Terminal 2 and Terminal 3 of the Capital Airport. A one-way trip takes approximately 15 minutes.
The Airport Express runs in the following sequence: Dongzhimen → Sanyuanqiao → Terminal 3 → Terminal 2 → Sanyuanqiao → Dongzhimen. Riders can transfer to Lines 2 and 13 at Dongzhimen and to Line 10 at Sanyuanqiao.
Most of the 28.1 kilometres (17.5 mi) of tracks are on the surface, except for a 4 kilometres (2.5 mi) segment between Dongzhimen and Sanyuanqiao, several minor crossings underneath existing railways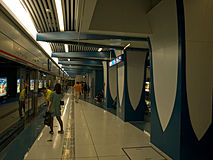 lines, and the terminal connection within the airport.
Fare
Airport to Beijing Downtown RMB 25 one way
Ticket counter at the airport:
T1: Gate No. 7 (inside) on F1
T2: Gate No. 9 to No.11 (outside) on F1
T3: exit of Zone A, opposite of the exit of Zone C onF2; next to Gate5, 7&11 on F1
How to take Beijing Airport Express Train
| | | | |
| --- | --- | --- | --- |
| Stations | Location | Open hours | Accessible Transfer |
| Terminal 2 | B2 of Parking Garage No. 2 | 06:35~23:10 | --- |
| Terminal 3 | F2 of Parking Garage No. 3 | 06:20~22:50 | --- |
| Sanyuanqiao | Sanyuanqiao station, Line 10 | 06:52~23:27 | Subway Line 10 |
| Dongzhimen | Dongzhimen station, Line 2 | 06:00~22:30 | Subway Line 2 and Line 13 |
More informations


Beijing airport shuttle bus

Beijing airport express train

Beijing subway

Beijing railway service