Liulichang Street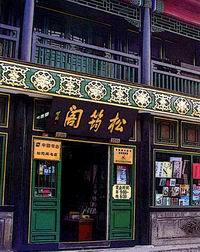 Getting to Liulichang Street is easy. You can take subway Line 1 and get off at Hepingmen Station, or alternatively take a taxi by saying Liulichang to the driver. The street, which is only 750 meters long, is located south of Hepingmen (Peace) Gate within walking distance of the Hepingmen Quanjude Peking Duck Restaurant.
Liulichang Street is known throughout China and the world for its antiques real and fake, old and new. The ambiance was like old China. Here you can find curios, ancient books, calligraphy, paintings, rubbings, ink stones and ink. If you are interested in Chinese antiques, Liulichang Street of Chinese culture is a must when you travel in Beijing.
During the time of Yuan Dynasty (1271-1368) and Ming Dynasty (1368-1644), a colored glaze factory (Liuli Chang in Chinese) was in production there, which made glazed tiles for the palaces, temples and residences of the officials, hence the name.
In Ming and Qing times, Liulichang was a favorite haunt for scholars, painters and calligraphers that gathered there to write, compile and purchase books, as well as to paint and compose poetry. By the Kangxi period (1661-1722), Liulichang had become a flourishing cultural center and was described as having "homes and buildings lined up like fish scales." During the Qianlong period (1736-1796), the street was even more prosperous. There one could find "rooms filed to the roof beams with all kinds of books," "a street filled with treasures and trinkets," and the "quintessence of all the markets in the capital concentrated in one street." When Emperor Qianlong decided to revise the Complete Library of the Four Branches of Literature, he ordered scholars from the project, and Liulichang became a center for research in textual criticism. For visiting scholars, a book-buying trip to Liulichang' s over 30 bookstores was one of the pleasure of a stay in Beijing.
At the end of the Qing Dynasty, the Superior-Level Normal School, the Five-Cities (in the Ming, Beijing was divided into five city districts) School and the headquarters of the Telephone Company were built on the site of the glazed tile works. In 1927, when Hepingmen (Peace) Gate was opened up in the city wall, the bridge was demolished and Nanxinhua Road was built, dividing Liulichang into eastern and western sections. The east became known as a center for antiques and curious, while the west was famous for its books. Shanghai Commercial Press, China Publishing House and Youzheng Press, which published books of Chinese calligraphy, all established branches here.
The street fell into absence of lively atmosphere for a time until the rebuild in the year 1982 that revived it. Now shops and houses of gray tiles and bricks together with sculptures and colored image are lined orderly by the street, making it taste more classical.
More informations


More informations of Dahshilan