Panjiayuan market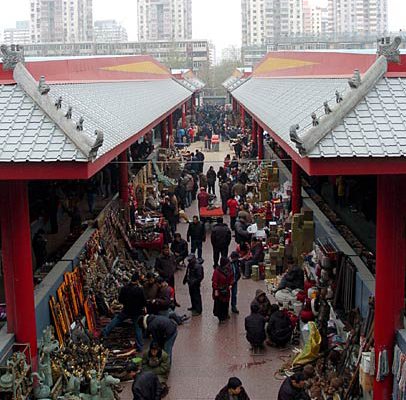 The Panjiayuan market is China's largest market for antiques and arts and craft items. It should be on the itinerary of anyone hoping to pick up a few old Chinese knick-knacks while visiting Beijing. You will find everything from ceramics, jewelry, teapots, baskets and books to Peking Opera drums, silver hairpins, Tibetan trunks, rugs, trumpets and prayer wheels.
The market is at the southwest of Panjiayuan Bridge, East 3rd Ring Road South, Chaoyang District. It covers an area of 48,500 square meters, of which 26,000 square meters are for business.
It mainly deals in antiques and old articles, handiwork, collections, and decorative articles, with an annual business volume of RMB several hundred million.
There are over 4,000 shops in the market, with nearly 10,000 dealers, 60% of whom come from 28 provinces, cities, and autonomous regions outside Beijing and over a dozen nationalities such as Han, Hui, Manchu, Miao, Dong, Uigur, Mongolian, and Korean.
Market selling Chinese antiques located in the south east of Beijing.  Lots of stuff here but 98% is a reproduced antique so only buy if you like the "look" of it, not for any "supposed" antique value. Bargaining essential.  It is hard to know what is authentic, so just decide what you like and what you are willing to pay for it, and then bargain away!
This spontaneous market came into being in 1992 as a roadside market. As trade in folk antiques and handiwork grew, it had become a large antique and handiwork market spreading folk culture in 2002. Many Chinese antique collectors believe that they started their career in Panjiayuan. A visit to the market has become as important a part of a foreigner's tour in Beijing as the Great Wall, the roast duck, and the Palace Museum.
More informations


More informations of Hongqiao Market