Xidan Shopping Center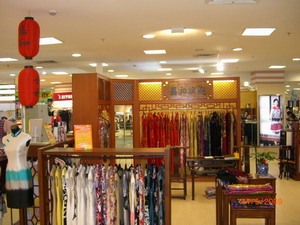 Getting to Xidan Shopping Center is pretty easy. You can take the subway and get off at the Line 1 Xidan station. It is one stop west to the Tiananmen Square.
Xidan Shopping Center is located at No.132 Xi Dan North Street, Xicheng District, Beijing, adjacent to Xidan Plaza and Xi Dan Scitech Shopping City. You can buy some Beijing specialties home on the first floor. The second floor is garment department. The price of garment is moderate, various age customers can buy satisfied clothes here and it is shopping sites identified by civilians.
Xidan Huawei Store situated on the fifth floor is very busy. In small commodity markets with gigantic area, there manages decorating articles, cap, case, toy, craft-work, watch and fashion articles. It is the heaven for the pretty young boys and girls. South KoreaCity once is splendiferous maidan by which your fashion taste is tested. The immersion of Nowadays South Korea flow is accepted to some extent, so its goods also enter into a model. If you have a thin and tall good figure and want to show, South Korea Dress Exhibition is a beautiful choice.
Xidan Scitech Shopping City locates at Xi Dan North Street and is separated from Xidan Shopping Center and Xidan Plaza with a road. They are all central shopping sites in Xidan district and business streets very famous all over the country. It is made up of underground first floor and over ground seven floors, and operated products include all of the things. If you want some things necessary to your life or heard before, you can find them here. Commodity fixes on middle and high level, quality is superior and shopping environment is quite fine.
There's also a large meat section up front, and teas, grains, beans and similar products in stalls along one side wall. The whole market is very noisy and interactive, as vendors encourage hands-on inspection of the various turtles, crabs and other items on sale.
More informations


More informations of Xidan Shopping Center