Wangfujing Street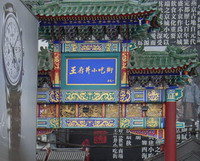 Getting to Wangfujing Street is pretty easy. You can take the subway and get off at the Line 1 Wangfujing station. It is one stop east to the Tiananmen Square.
Wangfujing Street is the most famous shopping street and it is now considered to be the central heart of the city. It is a fairly long and it considered to be the most longest pedestrian street in China. A walk from end to end would take you around 30 minutes, and that's without looking at any shops.
The street has two major shopping malls. One is OrientalPlaza, sprawling a further 2 blocks to the east. The other is Wangfujing Bookstore which is the biggest book store in Beijing and it has probably the largest outdoor TV screen in Beijing. Except these two big stores, Wangfujing Street is also home to a number of large department stores, souvenir stores, and whole side streets full of food stalls, Chinese painting stores and other goods.
At night, when Wangfujing Street turns on its ever increasing number of neon advertising signs, even more crowds flock to soak up the atmosphere. Most shops stay open till around 9pm and sometimes an impromptu a bustling food market.
In late autumn when crabs were in season you can see hundreds of crates filled with live crabs, stacked row after row, aisle after aisle. There's plenty of other seafood as well - various fish (some live in tanks), lobsters of all sizes (including some huge specimens), turtles and eel, plus numerous stalls specializing in shark's fin and dried fish.
More informations


More informations of Liulichang